Recruitment and Executive Search in Finance and Investment
Headquartered in Geneva, we capitalise on 30 years of experience in Financial Services and Investment recruitment globally. Our core markets and expertise are: Family Office, Private Equity, Real Estate, Financial Services, Liquid Assets, Technologie, Start-up / Venture Capital, Renewable Energy, Industrial and Consumer. We operate across Europe, the Middle-East, Americas and Asia.
We position ourselves as a partner to all organisations aiming to develop their talent pool. We work in a consultative way to maintain an optimal relationship with our clients because we believe that, there resides the Key Success Factor.
Our Approach
We can source the best talent from Junior to Executive level for your organisation anywhere in the world. Our network and innovative talent search embrace technological solutions. The sourcing approach is faster and more efficient than a traditional approach.
Accomplished mandates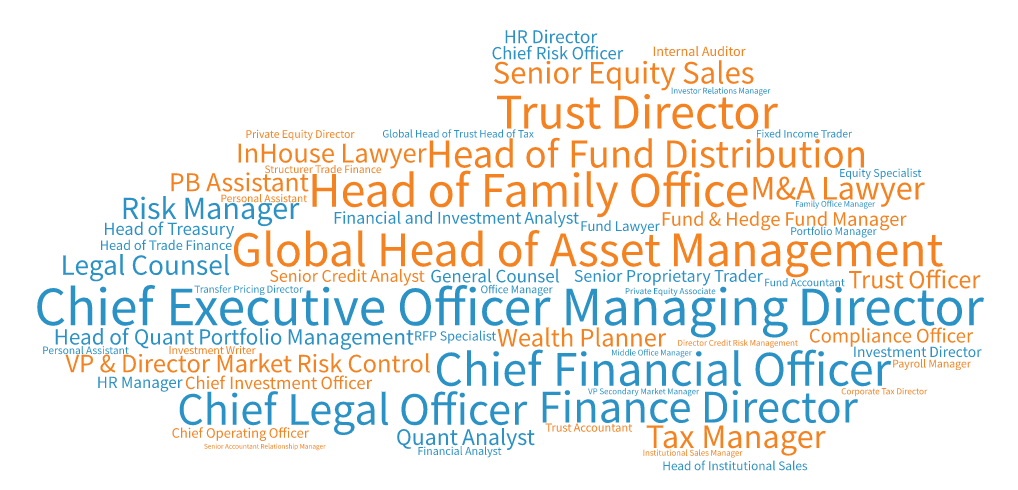 Practices
Administration & Operation
Alternative Investment: Hedge Fund, Commodities and Real Estate
Asset Management
Audit and Accounting
Brokerage and Dealers
Corporate Banking
Investment Management and Funds Administration
Family Office
Investment Banking
M&A and Corporate Finance
Sovereign Wealth Funds
Wealth management: private banking and Trust
Corporate and Executive Management
Flight Attendants
Pilots
Sales Professionals
Schedulers and Dispatchers
Technical Personnel
Compliance and risk management
Legal In-house (all levels with a focus on Financial Services, Industry, and Biotech & Life Science)
Private Practice (Partners and Associates)
Taxation, Trust and Wealth planning
Ad Tech
Big Data & Analytics
Client Services
Creative
Data Modeller
Designer
Developer
Digital Data Analyst
Digital Designer
Digital Marketing
IT Security
IT
Marketing
Media Planning and Buying
Project Management
Social Media amd Concent
Software Developer
Sales
Private Equity: buy-out, growth capital and mezzanine finance
Start-ups and Unicorns
Venture Capital from early to late stage
Automotive and Transportation Equipment
Building components
Consumer products
Engineering and manufacturing
Energy and Clean Tech
Machinery and industrial technology
Marketing
Real Estate, Property and Construction
Retail and Luxury Goods
Testimonials
I approached UR Capital because they were referred to us from a third party. Anicet Tanghe helped me by working closely with me to identify the future needs we had for our newly created family office. Their approach is extremely professional and efficient. UR Capital found us several key persons for our organisation. The added value brought by UR Capital is tangible thanks to their technical knowledge and experience to manage the most sophisticated needs. I would recommend Anicet Tanghe of UR Capital to people who need help with staffing and structuring their family office.
- Head of Family Office
London UK
I was head-hunted by UR Capital for a Chief Operating Officer role for a start-up company in London, and have been more than satisfied with the quality of service they deliver. I was generally impressed by the promptness of the recruitment process. The firm did a good job of guiding me through it and I have been pleasantly surprised with their follow-through.
- Fabrizio Parzanese
COO and Marketing Officer, Minilab Studios, London
Nous sommes très heureux d'accueillir notre nouveau directeur administratif et financier dans notre groupe familial et de pouvoir bénéficier de sa riche expérience Franco-Suisse, notamment en tant que Directeur Financier d'une Entreprise à taille humaine. Nous avons été aidé dans notre choix et sélection par le cabinet UR Capital basé à Genève. Au-delà de l'aspect technique du cahier des charges ils ont très vite appréhendé les enjeux stratégiques et spécifiques d'un recrutement pour une société familiale, étant notamment spécialisé dans le recrutement pour les « family offices » et les entreprises familiales Européennes de renom.
- Renaud Blanc
PDG de HBG Holding, Geneva